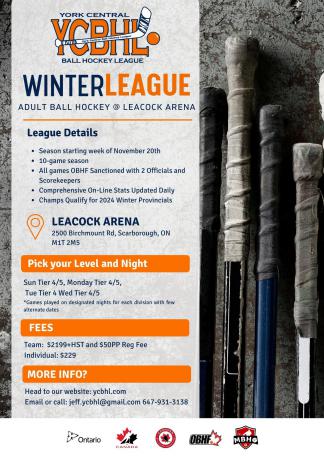 WINTER 2023-24 REGISTRATION @ LEACOCK OPENING SOON. LIMITED SPOTS!
Winter ball hockey is back at Stephen Leacock Community Centre. Limited spots are available so register early to guarantee your spot. Register by Nov 5th to secure your spot. Season starts Nov 19th. You can read more by clicking here. Register your team today by clicking here. A $300 deposit is required to secure a spot.
Season Details:
- $2199+HST/team (+ $50/player registration fee)
- 10 game season
- choose your main night (each division will have a few alternate nights)
- Playoff Champions receive cash prizes and top teams qualify for the OBHF Summer Provincials
- no gate/entrance fee
Individuals: Can register by clicking here. Fee is $229 tax included.