Scarborough/Markham Team and Individual Entry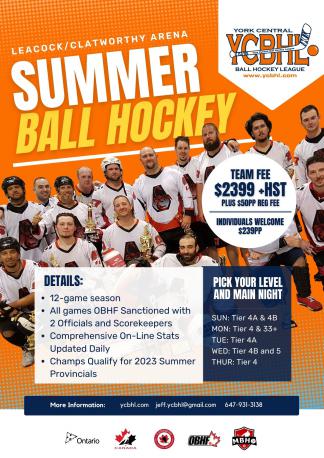 2023 SUMMER REGISTRATION. LIMITED SPOTS AVAILABLE
Register by Apr 15th to secure your spot. The season begins week of May 14 .Click here for full size flyer
Arenas:
Stephen Leacock (Scarborough)
Clatworthy Arena (Markham)
Registration Fees:
Team Entry fee $2399+HST, 12 game season
All players are required to register for their team and pay a $50 admin fee online before their first game
Entrance Fee:

Players will no longer have to pay entrance fees
Divisions offered:
Sunday Tier 4
Sunday Tier 4B/5
Tuesday Tier 4
Wednesday Tier 4B/5
Thursday Tier 4/5
Equipment:
CSA approved hockey helmet and approved hockey gloves are mandatory for all players
all goalies must wear full CSA approved equipment
visors, cages, athletic cup, elbow pads, soft knee pads and soccer style shin guards are recommended
players under 18 have parental consent and league approval. They also must wear full facial protection.
Team Registration:
online only by clicking here $300 deposit is required to secure your franchise
Individual Registration:
We accept individual registration. Please register by clicking here. Fee is $239 tax included. We will put individuals on the free agent list to be placed or create a new team. Individuals will be placed as follows:
1)Draft league if enough players register for the division
2)Team creation for T5 league play in Wednesday or Sunday tier 5 divisions
3)placed on an existing team if options 1 and 2 are not available and teams need players.
League Information:
season begins late February
weeknight games from start times are 7pm on
choose your main night (each division will have games on alternate nights)
full individual and team statistics posted daily on our website
D-Gel balls supplied for game play
playoff champions awards
Championship cup and end-of-season individual awards
Top teams are invited to attend OBHF Summer provincials (TBA)
OBHF-sanctioned league and officials
limited dental and medical insurance
clean and safe play
Teams/Players:
all players must be 18 years of age or older.
Players under 18 may play with parental consent
Teams must register a minimum of 12 players and a maximum of 22 players
Players need to play 3 (three) regular season games to qualify for the playoffs. One (1) game for goalies
Team must have same base colour jerseys and shorts/pants